Blog
We keep you up to date on the most recent real estate news and events.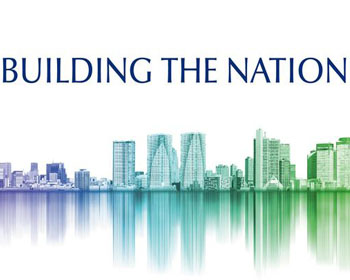 TRIDENT REALTY BUILDING THE NATION
Circa September 2008. One of America's largest investment banks, Lehman Brothers filed for bankruptcy. That event unfolded one of the worst financial crisis in the history of mankind. In just about two months, India started facing the ripples of the global financial crash. The country's real estate market that was enjoying a 300% growth in residential prices suddenly crashed. Amidst the tense atmosphere of the Great Recession with the housing market collapsing Trident Realty started its operations. An innovation-led, future-focused real estate developer, Trident was conceptualised as a pioneering force behind the rapidly changing skylines of NCR, MMR and Tri-City. The company was born with the vision of creating value for customers by being technologically driven through sustainable projects and infrastructure. Cut to present – Trident Realty is focussing on its tagline of 'Building the Nation' like never before. With its footprints across residential, retail, commercial and hospitality sectors, it is a force to reckon with as far as real estate is concerned. Being born at the cusp of India's technological boom, Trident Realty marries latest innovations with its strong ethos. In a little more than a decade, Trident Realty has set industry benchmarks for quality, robust engineering, and in-house research. In the past couple of years, the group has spread its wings to projects catering to the large super premium or luxury segment. With this, we're in particular targeting second time house buyers who are looking at an upgrade of their lifestyle. Why us There are several real estate brands in the country today. Only few are able to live up to the expectations for the discerning buyer who is wanting a little more than property. He/she wants ethics and transparency. And that's exactly where we come in the picture. We never compromise on our business ethics have an unswerving commitment to organisational values. Our journey Trident Realty's vision is not just about building the nation but creating ecosystems for young India to grow. We understand the growth of the country is synonymous with its youth doing well and with raising the happiness quotient among everyone. With technological innovations and excellence in every product, the group is setting benchmarks for the real estate industry in India. We have delivered over 1.89 million sq. m. of residential and commercial space in the high-growth sectors, and 1.20 million sq. m. is under various stages of construction in residential, retail, hospitality, and commercial segment. Future forward Today's homebuyer comes with a research of technological advancements and a modern way of living. They do not just want to buy a dream home but they want their home to be an amalgamation of a lifestyle that includes quality, happiness, sustainability and ethics. That is why Trident Realty endeavours to create ecosystems that are brimming with life through consistent and modern designs, catering to all genres, from affordable to lifestyle-based products. Incorporating technology in the right manner, Trident Realty is shaping better projects without compromising on their ethos of customer-centricity, sustainability, and well-being. At Trident, we're serious about delivering the best quality so our projects use the latest construction techniques. What sets us apart is the strong vision of the company, based on enduring values of transparency, ethics, excellence, commitment, and adapting to the latest technology. This framework adds a lot of value as it places the stakeholder at the heart of every project and every activity. We Care Climate change is the harsh reality of today. With rapid development comes the flipside – destruction of the environment. The mother earth needs people to understand that five years from now, climate change is going to make it difficult to survive. The planet is bleeding with its wounds and every human being needs to work hard to heal those. At Trident, we understand the grave climatic concerns and that is why we're striving to devise ways of minimising our carbon footprints. Our logo, with its green centre is the perfect representation of the philosophies we want to follow. Our belief to use recyclable material, minimum usage of paper is strongly imbibed in the internal stakeholders apart from our objective to go paper-free in customer transactions, to reduce carbon footprint of the company and go green. Home for all Trident was born with the idea of providing affordable spaces to everyone. However, things have changed in the last few years and so has the ethos of the group. Well-travelled Indians want luxury homes and offices, albeit at affordable rates. That is how Trident shifted gears from last two years by getting into township based and luxury projects. Instead of targeting first-time homebuyers, Trident is now shifting its gears towards the population that is looking at an upgrade in their lifestyle with luxury homes. Mission When it comes to dream homes, just quality isn't the only factor. At Trident Realty, we understand that time is money and so our mission is to build sustainable real estate projects within defined timeframe, thereby helping customers to create a meaningful legacy for their future generations. We're passionate about our projects and that's why our customer service and base is unparalleled. Over the years, being part of an industry rife with competition we've maintained a strong record of happy customers who have had no complaints with the time of their project delivery and their dream house. How do we achieve what we promise? Our excellent team is dedicated to research and the right use of technology to meet the ever-evolving needs of the real estate industry.