Blog
We keep you up to date on the most recent real estate news and events.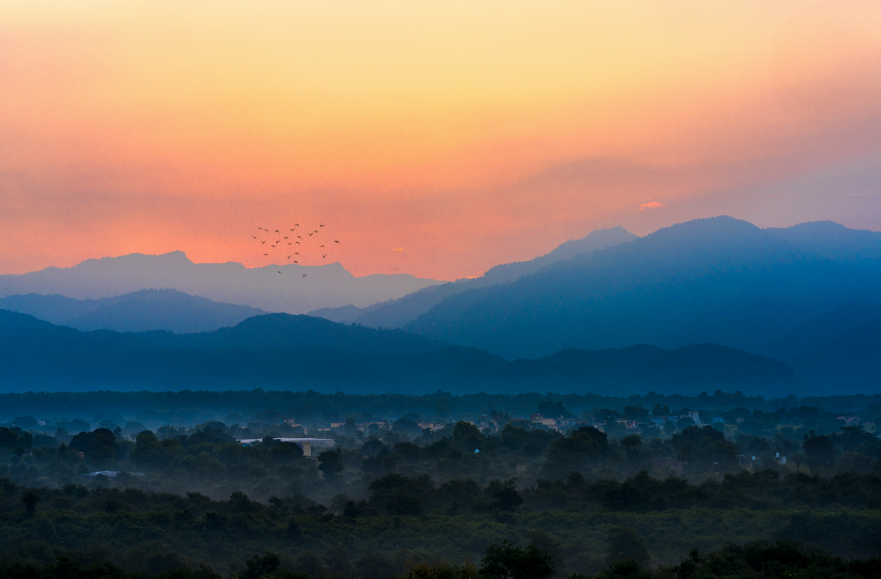 TRIDENT HILLS – YOUR PERFECT HAVEN
Picture this – you wake up to the sound of birds chirping with windows overlooking the hills. Your morning walks are amidst expanses of verdant greens and the lungs are happy with all the oxygen they get. Did you already start imagining a holiday? What if we told you this could be your life every day? It might sound straight out of a fantasy but this could be your life every single day if you choose to live in Trident Hills Luxury Township in Panchkula. At a distance of 18 kms from Chandigarh, this is one of Trident Realty's most ambitious and exciting project, promising to change how you choose to live. Located on the outskirts of the city and at the foothills of the picturesque Shivalik ranges, Trident Hills is a dream come true for homebuyers who aren't just looking for a home but for a place where they wouldn't want an escape from. This is where acres of green expanse share space with luxury shopping arcades and a morning meditation session can be finished with a luxurious swim. The transition Times they are a changing Bob Dylan's song perhaps sums up the current times better than anything else does. The pandemic has changed our lives in unfathomable ways and that includes our choice of homes and their environment. If before the pandemic broke out, some of us aspired to move to big metro towns, the pandemic urged us to rethink and choose tranquillity. This was also the time when many of us decided to move back to our hometowns for good, leaving behind the glitzy big cities. The temporary relief from the traffic snarls and an air full of pollution showed us a life of quality. Butof course, it isn't easy to leave behind the comforts that come with life in big cities. That is why concepts like Trident Hills work perfectly as they balance both the worlds so well. The location A few years ago, Chandigarh and the tri-city seemed like a boon to people wanting to settle down in quieter spaces with all the amenities. However, as time passed, traffic within the tri-city has increased manifold leading to air and sound pollution. Perhaps because while the geographic boundaries of the cities have remained the same, they've also been bursting at the seams with people adding to the strain in infrastructure. Especially because crossovers from Panchkula to Mohali or vice-versa happens via Chandigarh making these areas bottlenecks. The perfect answer to all these is Trident Hills which is located at the outskirts of Chandigarh and the foothills of Shivaliks, making them part of the city, yet away from the hustle and bustle. Nestled in nature More often than not, homebuyers spend ages hunting for a home which is blessed with views that soothe the eyes – trees, ample sunlight and more. But rarely are they able to find a space which is naturally blessed with nature. Aptly named Trident Hills, this sprawling space will have almost every window overlooking the mountains. So, waking up to sun's rays peeping out from the hills won't be a dream anymore for people choosing to live in Trident Hills. As if this wasn't enough, the property is at just a short driving distance from wildlife sanctuaries such as the Bir Shikargah and the Khol Hai Ratan. Chandigarh's Sukhna wildlife bird sanctuary too is just 19 kms away from Trident Hills. Living in style Trident Hills truly embodies the essence of 'grand living' with Independent low-rise floors, and amenities for comfort. The living spaces in Trident Hills marry contemporary chic with the finest luxury sensibilities. With each window boasting of a panoramic view of The Shivaliks, every living space becomes an escape in itself. Nestled in lush green environs, the independent floors are designed in a sophisticated manner with all comforts. For those who are in love with a bird's eye view, Trident Hills' high-rise apartments overlooking the Shivaliks and the city's silhouette. However, for those who love the finest things in life have the choice of the luxury villas. These limited-edition villas are a fine showcase of grandeur with world-class amenities, uber-stylish designs and lots of space personifying the villa life. But there always are those who prefer to craft their own dream home and for those, Trident Hills offers exclusive plots. Be it a cottage, a mansion or a duplex, the plots are a canvas to create the home of dreams. Live the good life At Trident Hills, the good life is a way of living. Trident Hills boasts of The Azaleas – a Club that exudes luxury and covers every aspect of life. From sports to health and rejuvenation and from bars and lounges to a cafes, The Azaleas is the perfect space for unwinding. Adding to that are the party lawns, banquet halls, bars and lounges, a cafeteria, chess rooms, auditoriums and rooms for senior citizens. For the sport enthusiasts, the entire township comprises tennis, basketball and football courts along with a bowling alley, air hockey, and table tennis. A world within its own A self-sustained unit, life at Trident Hills leaves no stone unturned for a life replete with every essential requirement. The commercial spaces here are a one-stop-shop for all retail needs in elegantly designed shopping complexes. What's more, budding entrepreneurs too can realise their dreams by owning their own space here. Not just shopping, Trident Hills also cares for your well-being so a medical centre with a dispensary and nursing home will take care of all your medical needs. Not just this, nursery and primary schools within the space boast of world class facilities as do the day care centres. Why live in a township Rapid urbanisation is a bane and boon. But living in a township provides you with the best of all the worlds. The primary benefit of a township is the unified solution it offers to a number of urbanisation challenges, including convenience. A township is a secluded world of its own offering everything within its space from schools to hospitals gyms and swimming pools. That raises eyebrows over its accessibility to offices and hospitals and more. And that's the best part – because a township has it all and more within its own unit. While major employment hubs are more often than not at a short drive away from these townships, the area is equipped with hospitals, schools and nurseries too. In today's day and age, one often craves for safety, good company and a place, which feels like home. Living in a township ticks all these boxes.